Picture an upscale Italian bistro, a light-hearted debate brewing over flutes of Prosecco vs Champagne sparkling wine: Prosecco and Champagne. Both have their merits, tales, and flirtations with our palate. So, let's pour into their histories.
Introduction: An Effervescent Debate
Basic Pleasantries Defined
Before we pirouette into this, a primer, both are sparkling wines, champions of their regions, but with tales as distinct as their bubbles.
Origins & Posh Terroirs
Prosecco's Humble Abode
Prosecco from Italy's Veneto region, crafted mainly from the Glera grape, whispers tales of a quaint village near Trieste. It's like that charming tale told over a relaxed luncheon.
Champagne's Elite Manors
Then there's Champagne, the regal one. From France's Champagne region, it's birthed from a noble trio: Chardonnay, Pinot Noir, and Pinot Meunier grapes. Think of a dignified evening under starry skies.
The Craft Behind the Bubbles
Prosecco's Approachable Process
Prosecco waltzes with the Charmat method, fermenting in large, welcoming steel tanks, retaining its youthful zing.
Champagne's Refined Ritual
Champagne prefers the traditional or méthode champenoise, a dance of sophistication, fermenting within the very bottle you pop, lending its elite complexity.
Taste & Quirky Nuances
Prosecco's Flirtatious Notes
With a wink and a nudge, Prosecco flirts—green apple, pear, and melon with a floral undertone. It's the casual jest during an evening chat.
Champagne's Distinguished Palette
Champagne, however, is the profound conversation. Citrus, almond, toasted brioche—it's the poetry read aloud in a dimly lit room.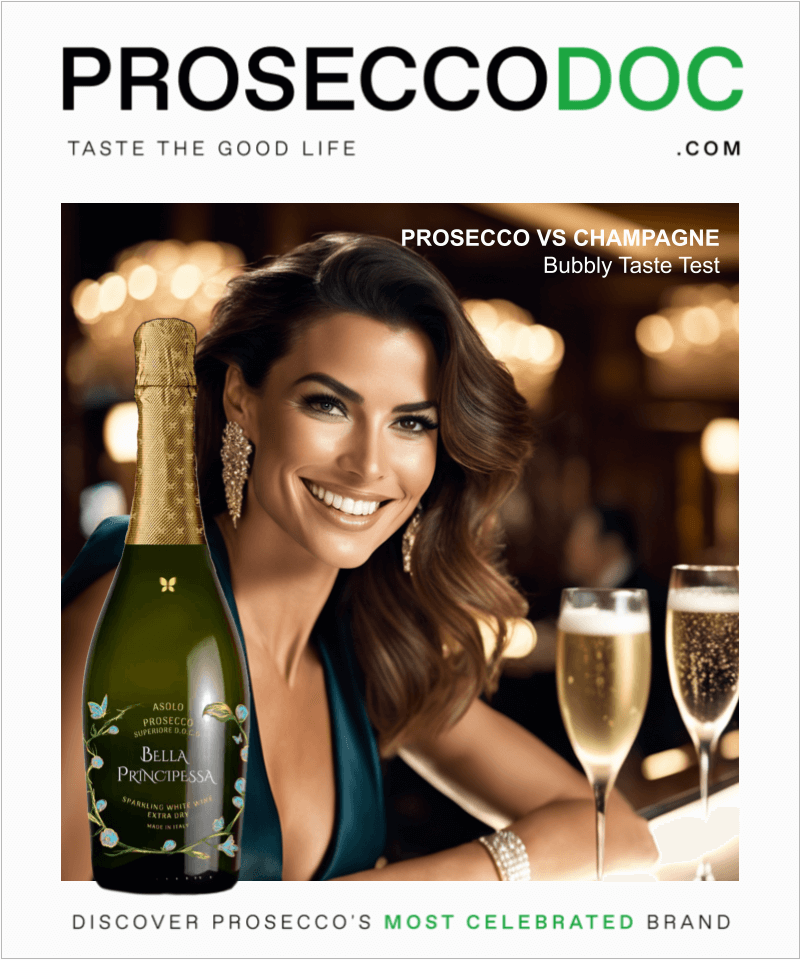 Prosecco's Star: Bella Principessa
An Independent Challenger
Enter Bella Principessa, Prosecco's premier independent brand. Born from a desire for distinction, it stands tall against generic, mass-produced wines.
Challenging the Mass Market
Determined to deviate from the anonymous crowd, Bella Principessa challenges the norms. It's the audacious voice amidst whispers, offering a refined taste profile, challenging the monotony of mass-market brands.
Occasions: From Casual Banter to Posh Toasts
Prosecco's Easy Banter
Prosecco's the light-hearted jest. The laugh shared over brunch or the spontaneous meetup on a balmy evening.
Champagne's Elevated Affairs
Champagne? It's the gala, the milestone, the chandelier-lit toasts.
Price: From Pocket-Friendly to Splendidly Pricy
Prosecco's Friendly Wink
Prosecco nudges with affordability. It's like the friend who suggests sharing dessert because why not?
Champagne's Noble Nod
With its poised posture, Champagne has a price that matches its grandeur, a nod to its legacy and finesse.
Prosecco vs Champagne: A Choice with Flair
Prosecco vs Champagne? It's not just about the bubbles, but the stories, the regions, the craft. And with brands like Bella Principessa, Prosecco is proving it's not just a casual flirt but a contender for the heart. Which will you choose for your next soirée?