Introduction
In the heart of Italy's scenic Veneto vineyards, Michael Goldstein, the dynamic founder of Prosecco Ventures, is reshaping the Prosecco landscape. He's on a mission: to elevate Bella Principessa as the foremost Prosecco name and elevate the entire Prosecco scene.
Throughout our exchange, Goldstein's fervor for Prosecco shines brightly. He envisions Prosecco joining the ranks of iconic brands in Champagne, Vodka, Gin, and Tequila that have seized consumer hearts. For Goldstein, Prosecco's moment is now.
With cutting-edge marketing and novel strategies, Goldstein connects especially with the younger crowd, putting Prosecco Ventures ahead in the premium Prosecco race. The company emerges as an industry pioneer with distinct products and intellectual prowess.
Goldstein also introduces Prosecco's unique traits – the esteemed Glera grapes and the singular terroirs of Veneto's Friuli Venezia Giulia regions. His commitment to enlightening consumers and investors on Prosecco's intrinsic worth is palpable.
"Turning bubbles into brands isn't just a catchy phrase; it's our compass," Goldstein asserts. "We aren't simply making Prosecco; we're weaving tales, fostering memories, and nurturing a love for the Prosecco category, one Bella Principessa bottle at a time."
Prepare for a thrilling Prosecco voyage as we jump into an in-depth Q&A with Michael Goldstein. His inspiring vision for Prosecco Ventures heralds a fresh, invigorating chapter in the Prosecco narrative. Without a doubt, Prosecco's future glimmers brilliantly.
Check Out Michael Goldstein's Podcast Interview here.
Q&A
Q: So, there's a funny thing about Prosecco. It's hugely popular, but people can't seem to name a brand. What's up with that?
Michael Goldstein: You're 100% right! It's truly astonishing that despite the global consumption of over 700 million bottles of Prosecco last year, people have difficulty recalling even a single brand.
Many people think 'Prosecco' is a brand, not knowing it's a type of sparkling wine. It's a different story with Champagne, where big brands dominate the roost.
In this offbeat scenario, there's a golden chance for a distinctive Prosecco brand to rise and carve its niche amid a sea of mundane imitations. For us, Bella Principessa Prosecco wears that crown.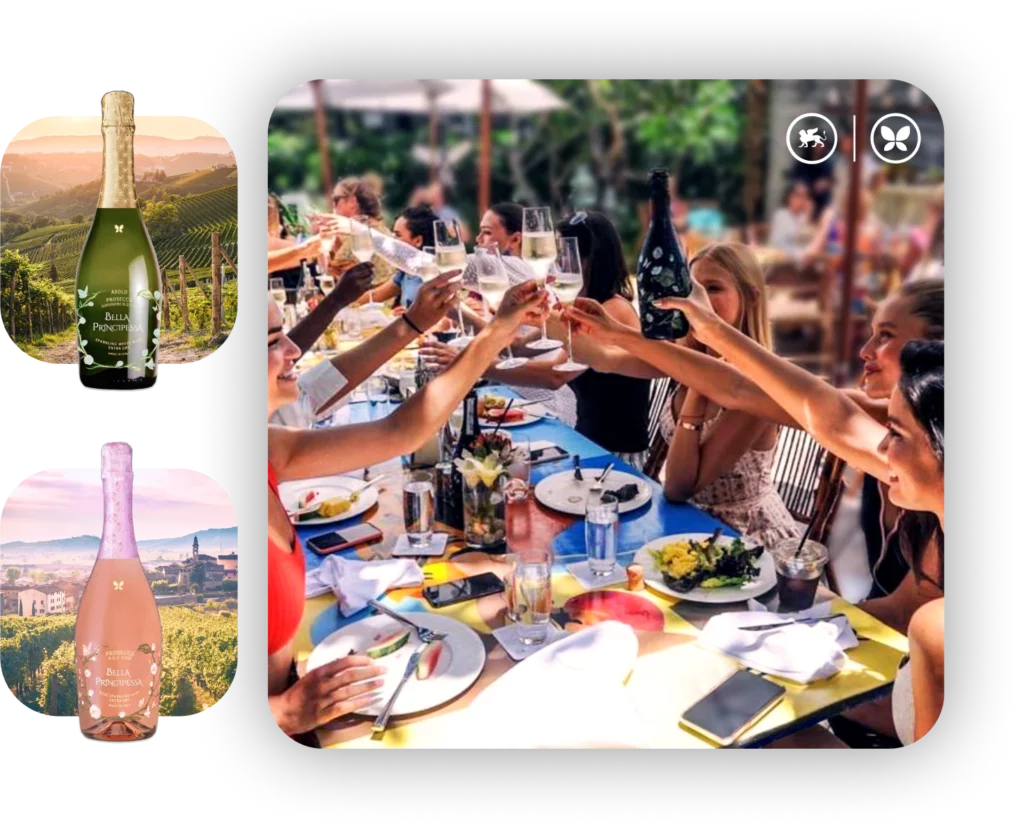 Q: What motivated you to enter the Prosecco business?
Michael Goldstein: My journey into the Prosecco business started during a Venetian holiday. While exploring the region, I noticed the lack of globally recognizable Prosecco brands and a gap in quality presentation. This sparked my passion and led to the creation of Bella Principessa—a brand that represents Italian elegance, hospitality, and superior wine paired with visually captivating presentations.
Q. What is Prosecco Ventures known for?
Michael Goldstein: Prosecco Ventures is recognized for its unique portfolio of sustainably sourced, independently owned Italian wine brands, strongly emphasizing Prosecco. We are a family-owned business and take immense pride in every bottle that bears our name. Our commitment is to deliver the best that Italy has to offer.
Our exclusive range of premium wine brands, Bella Principessa, Signorina, and Bella Vino, is a testament to our unwavering dedication to quality and excellence.
Q: Why do Prosecco Ventures have more than one brand? Is the Company taking on too much?
Michael Goldstein: Having multiple brands is a strategic approach that's quite common in the wine industry, and it plays a crucial role in our growth. In the world of Prosecco, variety is key.
In offering three distinct lines, we can cater to the diverse tastes and budgets of Prosecco lovers, ensuring that there's a Prosecco Ventures choice for every occasion.
"Bella Principessa – Happier Ever After" is our premium line. This is where we pull out all the stops to offer our top-quality, traditional Prosecco. It represents the best of what we do and sets the standard for our commitment to excellence.
Our diffusion line is "Signorina – The Perfect Drinking Companion." We've designed Signorina to offer the premium taste of Bella Principessa but at a more accessible price point. It's perfect for those who want the Prosecco experience without breaking the bank.
Lastly, our convenience line is "Bella Vino – Good For Your Mood. Tasty With Food." Bella Vino is all about bringing quality Prosecco to everyday moments. It taps into the growing trend of wine-in-a-can, offering bar-quality Prosecco cocktails that are practical for those seeking taste and convenience.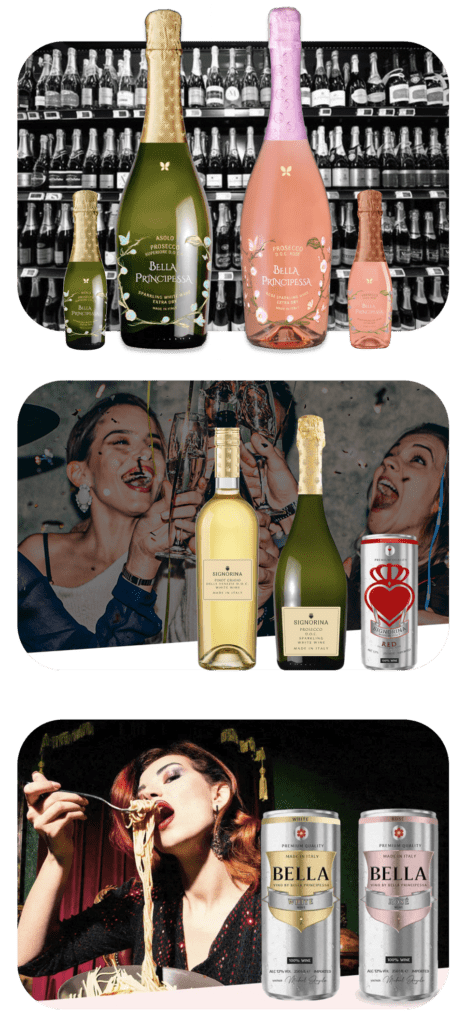 Challenger Brands
Q: Do you believe it's possible to establish a leading brand of premium Prosecco that people will remember?
Michael Goldstein: Absolutely, yes. In this era, establishing a premium brand depends on the product quality and the narrative we weave around it. By linking our brand with emotions and experiences, we can create a lasting impression that resonates with consumers.
Q: Could you elaborate more on this strategy?
Michael Goldstein: Certainly. Take Brew Dog and Yellow Tail as examples. These brands disrupted crowded and competitive markets through product differentiation, creative marketing, and a commitment to quality.
Brew Dog took the craft beer industry by storm, positioning itself as a rebellious alternative to mainstream beers, resonating with a wide audience.
Similarly, with its approachable wines and distinct branding, Yellow Tail made wine enjoyable for everyone, breaking the barriers of the often elitist wine culture.
Q: How do you plan to apply these inspirations to Bella Principessa?
Michael Goldstein: Drawing on these examples, we aim to establish Bella Principessa as the leading brand in Prosecco. We plan to tap into a "blue ocean" of new customers – the next generation of experience-seeking drinkers who have not yet committed to a specific brand.
We're not just creating another Prosecco label but crafting an unforgettable premium brand that forms a special bond with consumers and leaves lasting memories.
Q: Can you talk about the challenges Bella Principessa faced initially?
Michael Goldstein: As with any new venture, we faced several challenges. The Prosecco market is largely controlled by multinational players, so breaking into this market as an underdog was difficult. However, we saw these challenges as opportunities. We focused on carving out our niche by offering a premium product and experience that stands out.
Q: How do you respond to industry 'old-timers' who, despite acknowledging the demand for Prosecco, question the need for a distinct brand?
Michael Goldstein: That's always an intriguing question. Most industry veterans accept that Prosecco's demand is soaring, yet some remain doubtful about the importance of a distinctive brand.
As a firm believer in the power of brands, I've noticed an interesting contrast between the perspectives I've encountered in the USA and the attitudes I've met in the UK and Italy.
A handful of dominant Prosecco producers rely on distribution muscle over brand affinity to drive sales.
Most industry veterans accept that Prosecco's demand is soaring, yet some remain doubtful about the importance of a distinctive brand.
These 'wine experts' may think they're selling their own Prosecco brands, but when I ask them to name their top-selling Prosecco, they often stumble.
They don't even argue when I highlight that Prosecco might make up more than 10% of their annual wine sales volume. They agree.
These conversations can sometimes be exasperating, but they're also the fuel propelling Prosecco Ventures forward.
There's a reason drinks conglomerates employ different skill sets to make their brands successful.
It surprises me that more industry players aren't creating a unique Prosecco brand or seeking lucrative partnerships with forward-thinking entrepreneurs like myself who've already done the groundwork.
The complacency I often see in longtime wine professionals seems commonplace. It's less work for them to keep doing what they already do.
Sometimes, I hear, "We can do what you're doing without your help." Maybe they can, but they've had years and haven't yet. Many don't even realize that their wine labels are just names on a ledger, not real brands.
And let's be clear – people want brands. Behemoths like Coca-Cola spend tens of millions annually on new branding concepts, often returning to what's worked previously. We nailed it with Bella Principessa.
With Bella Principessa, we didn't just strike lucky; we invested in getting it right. The brand strongly appeals to our target audience, stylish (mostly) female drinkers.
Ultimately, we're not just shaking things up with our brands but championing a move towards premium offerings in the Prosecco category. This bold vision distinguishes us and sets us on course to shape Prosecco's future.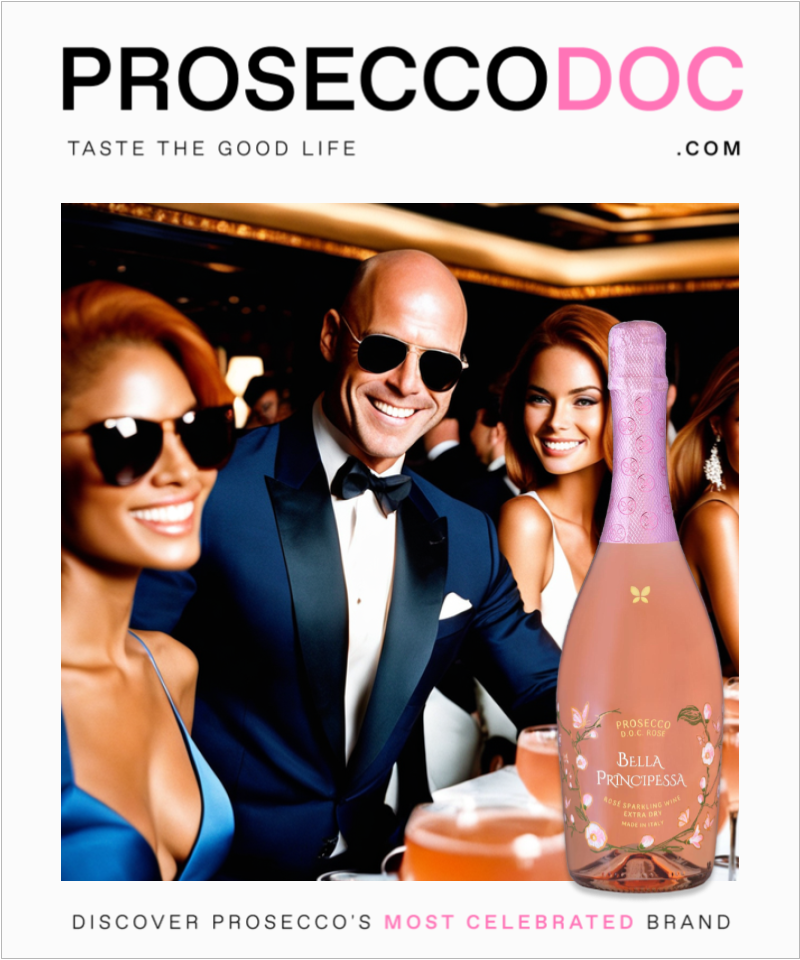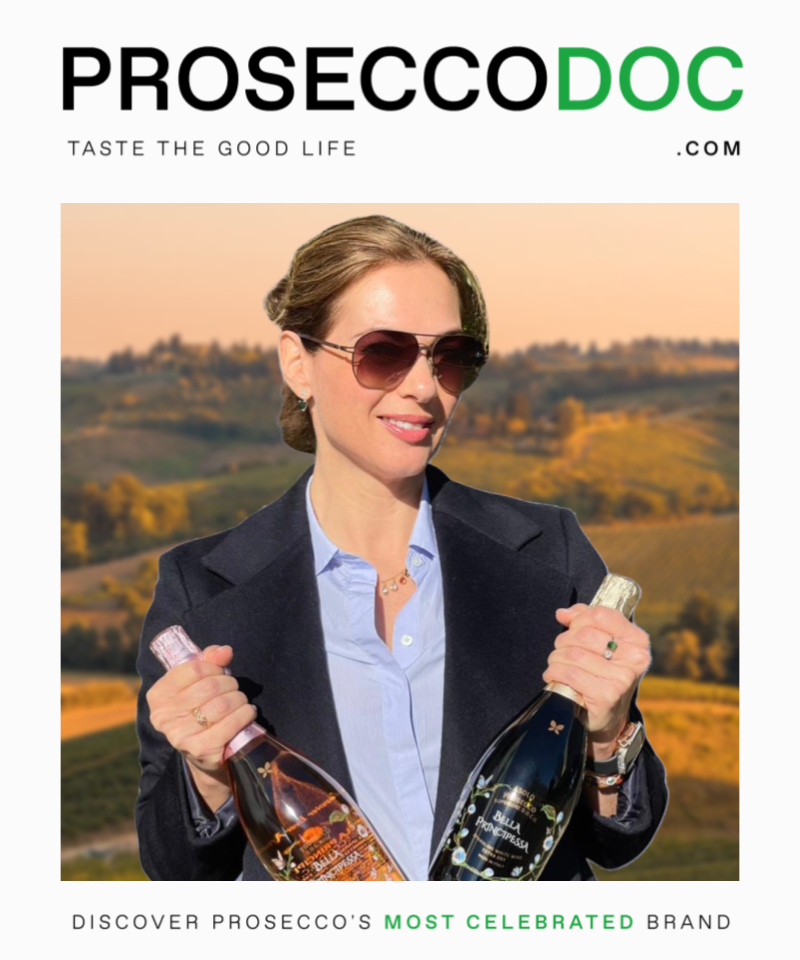 Q: Bella Principessa is the crown jewel of Prosecco Ventures. What makes it special?
Michael Goldstein: Indeed, Bella Principessa is more than a Prosecco brand. It's a lifestyle. We've worked to position it as a symbol of elegance and celebration, going against the perception of Prosecco as merely an entry-level product.
Q: Bella Principessa's success story seems to have a certain magic to it. Could you share some insights?
Michael Goldstein: The story of Bella Principessa Prosecco has a unique charm.
Bella Principessa's stylish appeal has enabled it to secure prestigious accounts in luxury hotels, upscale bars, and esteemed restaurants and attract the attention of global retailers.
Enjoying a glass of Bella Principessa Prosecco transcends the act of merely drinking; it's an immersive experience that fuses style, quality, and flavor. As often noted, Bella Principessa isn't just a beverage. It's a fashion statement.
What sets Bella Principessa apart is its capacity to transform the commonplace into something extraordinary.
Q: What would you attribute Bella Principessa's high-profile recognition to?
Michael Goldstein: Bella Principessa didn't have to rely on celebrity endorsement for recognition; its inherent allure and premium positioning were enough to appeal to the discerning consumer.
Despite limited marketing and PR efforts, we've received notable media attention and earned a reputation as a more affordable alternative to luxury Champagne brands.
Q: How does Bella Principessa fit into the retail landscape?
Michael Goldstein: Bella Principessa's ease of discoverability and ability to seamlessly fit into the retail landscape has caught the attention of national retailers, demonstrating its potential for mainstream acceptance and continued growth. Our commitment to excellence and focus on customer experience drive Bella Principessa forward, ensuring it continues to sparkle in the Prosecco market.
Q: Can you elaborate on the significance of Bella Principessa's distinctive packaging?
Michael Goldstein: Bella Principessa's meticulously crafted ceramic-painted bottle results from my relentless pursuit of perfection. While most Prosecco producers opt for generic labels, Bella Principessa's unique packaging significantly contributes to our brand differentiation strategy. We aim to offer the sophistication of champagne at Prosecco prices.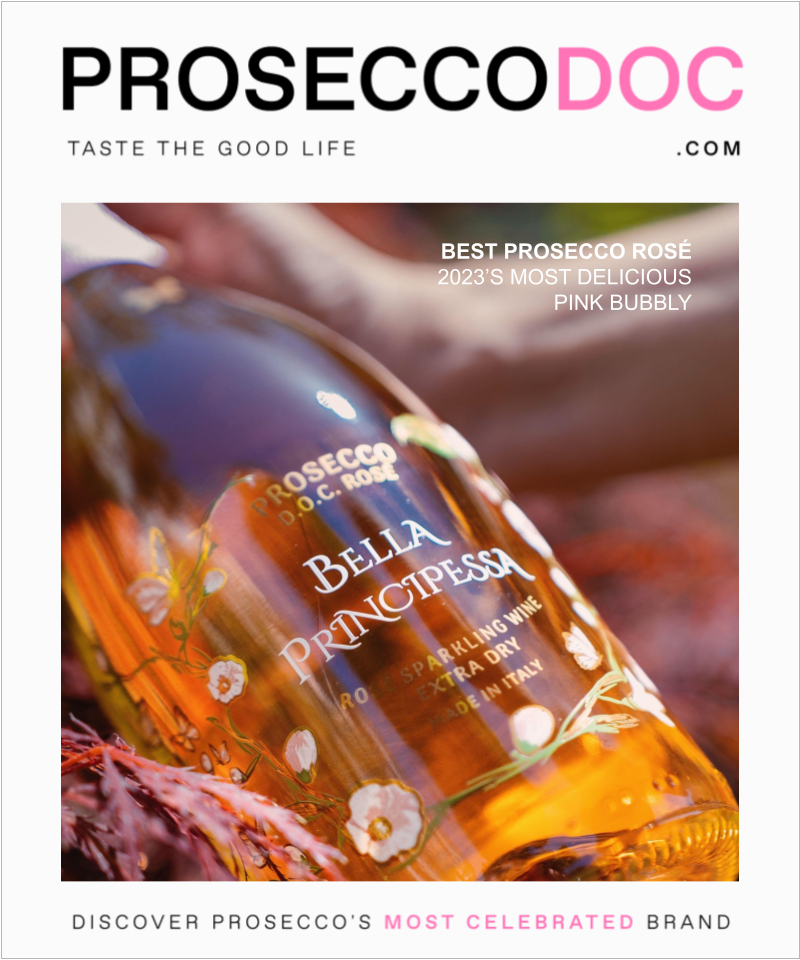 Q: How has Bella Principessa influenced the perception of Prosecco?
Michael Goldstein: While Prosecco's name has undeniably driven its popularity, Bella Principessa has pushed for brand recognition beyond just that. We aim to elevate Prosecco from being seen merely as a bubbly drink to a lifestyle choice.
Q: Marketing plays a massive role in Bella Principessa's strategy for making its mark. Can you dive deeper into that?
Michael Goldstein: Of course. You're right. Marketing is at the heart of our plan to get Bella Principessa's name out there. Our main focus is storytelling.
We're putting a lot of energy into digital platforms as the cornerstone of our marketing push. Social media, influencers, and engaging online content are tools to increase our brand's visibility, spark curiosity, and build a solid connection with our audience.
But it's not all digital—we're also bringing Bella Principessa to life offline. We're teaming up with high-profile events and swanky hotels to ensure the right crowd sees us. The ultimate goal is to make Bella Principessa synonymous with premium Prosecco, and we're using targeted marketing to make that happen.
Q: Can you explain how Prosecco Ventures plans to harness the crowd's wisdom to build its brand portfolio?
Michael Goldstein: I'm obsessed with how tech and pop culture influence behavior.
Drawing inspiration from successful presidential campaigns like Obama's in 2008 and Trump's in 2016, our approach to the Prosecco market uses emotion-led community marketing that engages and empowers supporters.
At Prosecco Ventures, we seek ways to harness the crowd's wisdom for insights, ideas, and feedback from our Prosecco enthusiasts, actively involving our customers in decision-making processes.
Doing so strengthens our brand and empowers our community members with a sense of ownership. Their feedback shapes our brand strategies, product offerings, and marketing initiatives.
As successful political campaigns captivate millions, we aim to cultivate loyalty and a vibrant sense of community, where individuals passionately embrace our offerings and share our Bella Principessa lifestyle brand.
Q: Isn't that a lofty goal for an independent challenger like Prosecco Ventures?
Michael Goldstein: It is indeed an ambitious task, and the stakes are high for me as the founder of Prosecco Ventures. I am personally invested in the success of our company. I want our stakeholders to be customers and active participants in our journey and ultimately share in our success. I firmly believe in our vision and the expertise to execute it.
Q: How is the Prosecco Ventures investment opportunity similar to Brew Dog's approach?
Michael Goldstein: Yes! Let's look at Brew Dog, a brand that resonates with beer enthusiasts. Brew Dog understood that beer lovers enjoy their favorite brew and want a stake in the brand.
By offering an investment opportunity, Brew Dog allowed their fans to become shareholders and have a say in the company's direction. It was a way for beer enthusiasts to show their support for a brand they love and benefit from its success.
Like Brew Dog attracted "beer bros" with investment opportunities, we aim to engage our primarily female Prosecco enthusiasts. By investing in Prosecco Ventures, they can own a stake in Bella Principessa Prosecco and contribute to its growth while enjoying their favorite drink.
Market Data Insights: The Prosecco Landscape
You can check out industry data reports here: Impact Data, IRI, IWSR, Drinks Intel, and Statista reports.
Q: What are the global Prosecco sales numbers?
Michael Goldstein: The Prosecco market is thriving, and a few key insights give us a better understanding of its potential.
Prosecco has steadily carved a massive niche in the world of wines. It accounts for 10% of global wine sales, underlining its growing appeal.
Prosecco Ventures is all about redefining the Prosecco experience. We're setting our sights on the vibrant market of 164 million bottles to substantially impact the premium sparkling wine industry valued at $20 billion.
In a nutshell, the annual global Prosecco sales data from the consortiums reveals some interesting trends:
Premium Prosecco sales have risen by 25%, selling 92 million bottles.
Pink Prosecco sales hit 71.5 million bottles, up by 4%.
Regular Prosecco Doc sales lead with 556 million bottles, a 26% increase from 2020.
We're excited about the possibilities and are confident that our premium offerings, like Bella Principessa, will capture the hearts of sparkling wine enthusiasts worldwide.
Q: Which markets show promise for Prosecco's expansion?
Michael Goldstein: While the Prosecco markets in Germany and the United Kingdom have performed steadily, the United States, in particular, holds tremendous potential.
In Germany, Prosecco sales surged by 18% in 2022, reaching 46 million bottles, and we anticipate that it will surpass 55 million bottles by 2025.
Similarly, the US market experienced a 16% growth in Prosecco sales in 2022, reaching 118 million bottles, highlighting strong demand for sparkling wine.
We are well-positioned to capitalize on these burgeoning markets. Our strategy aligns with the premiumization trend in the US and Germany, where consumers prioritize quality. We're excited to ride this wave of increasing Prosecco popularity and fuel our expansion in these promising markets.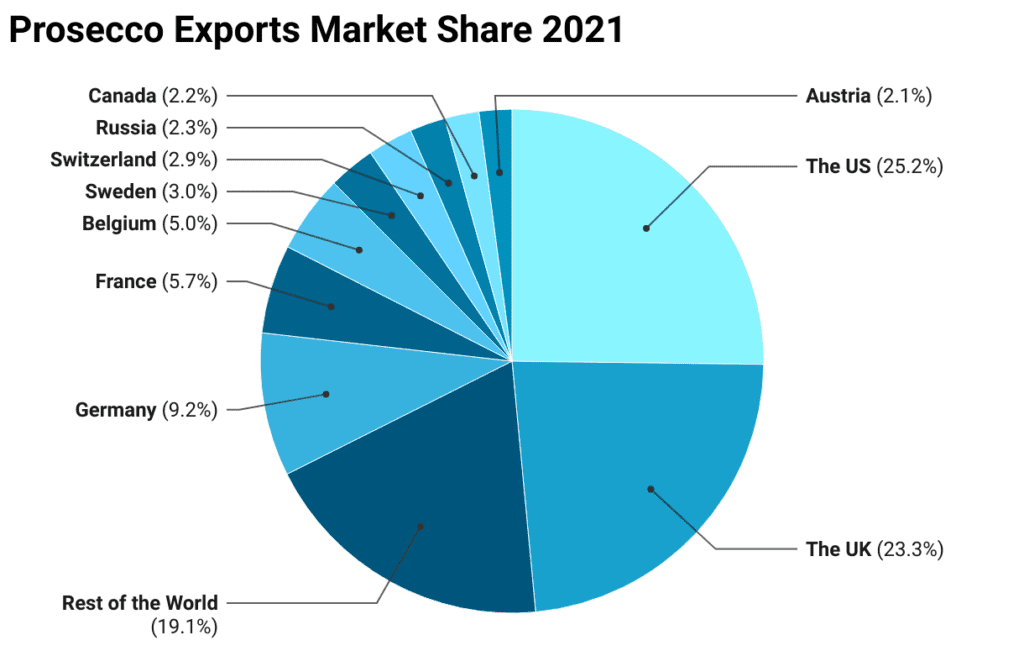 Q: Are there any other markets where you see growth potential?
Michael Goldstein: Indeed. With the right partners, we're eager to expand our footprint to emerging Eastern Europe, Asia, and Australian markets. We aim to bring Bella Principessa's distinctive sparkle to these new territories.
Q: Can you share your thoughts on Prosecco's potential and role in your company's growth strategy?
Michael Goldstein: I strongly believe in Prosecco's potential.
Just as in all competitive markets, the prosecco field is saturated. Yet, it's saturated with generic products, leading consumers to misidentify 'prosecco' as the brand. We see this misconception as an unprecedented, disruptive opportunity we're eager to capitalize on.
For us, Prosecco is not just a category in the alcohol industry; it's a sparkling opportunity waiting to be uncorked. We're fully committed to harnessing this opportunity and making our Bella Principessa brand synonymous with premium Prosecco.
Closing Words
Michael Goldstein: Thank you for your time today. Please raise your glasses with me and share a toast to Prosecco's bright future! Saluti!