Table of Contents
Unravel the magic of the quintessential Italian cocktail with our straightforward guide. Hone your mixology prowess and astonish your guests with how to make an Aperol Spritz perfect every time.
Recently skyrocketing in popularity, this iconic Italian concoction suits any event. In this guide, we'll delve into what sets the Aperol Spritz apart and guide you through crafting it at home.
Understanding Aperol Spritz
Aperol Spritz combines Aperol, Prosecco, and soda water into a refreshing, sophisticated beverage. With its signature bright orange tint and distinct bittersweet Aperol notes, it's no surprise this Italian classic wins hearts universally.
Aperol, the Italian apéritif, weaves flavors from bitter orange, rhubarb, and various herbs, offering a hint of bitterness, sweetness, and citrus – an ideal base for a vibrant cocktail.
A Glimpse into the Aperol Spritz's Past
Originating in the early 1900s, the Barbieri brothers in Padua, Italy, introduced Aperol in 1919. Initially christened "Spritz Veneziano," this drink was first admired in Italy's Veneto region as a favored pre-dinner drink. Its charm quickly spanned Italy and now quenches thirsts globally, especially in the summertime.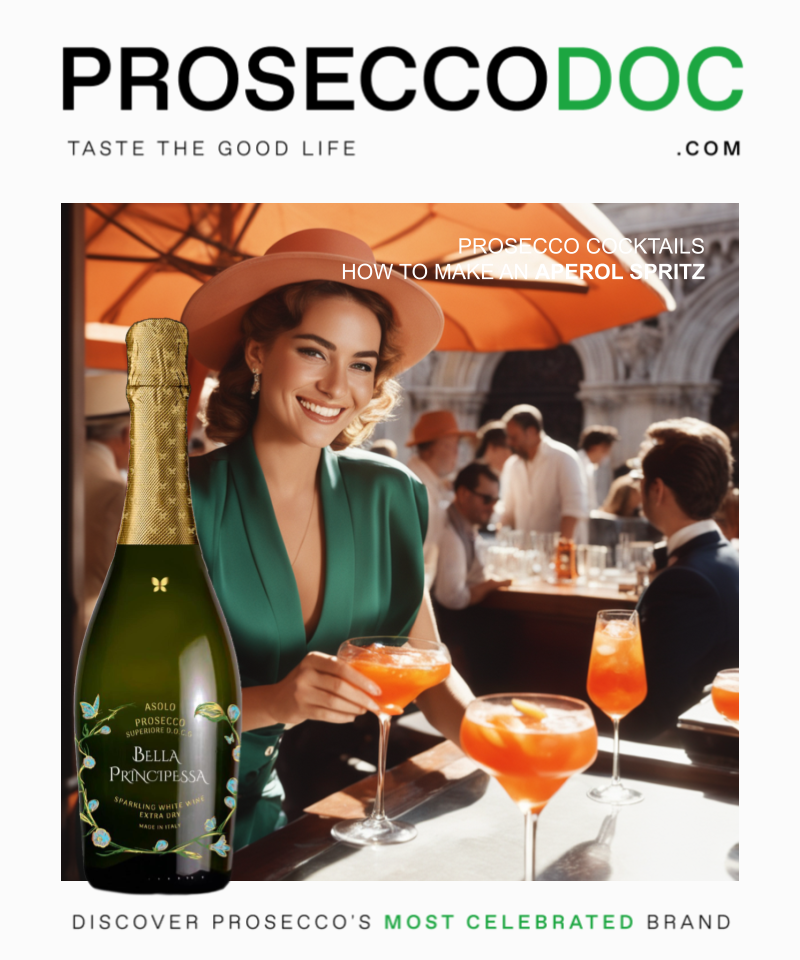 Ingredients: Crafting the Aperol Spritz
Mingle Aperol, Prosecco, and soda water to concoct a tantalizing bittersweet drink with a citrus zing. Ready to mix? Gather:
Aperol
Soda water
Ice
Orange slices (as garnish)
The Aperol Spritz Blueprint
Fill a wine glass with ice.
Pour three parts Bella Principessa Prosecco.
Add two parts, Aperol.
Splash in some soda water.
Stir well.
Adorn with an orange slice.
Revel in every sip!
Spritzing Up the Classic: Aperol Spritz Variations
Though the classic never fades, spruce up your Aperol Spritz with these twists:
Aperol-Campari Mix: Introduce Campari for a deeper bittersweet layer.
Aperol-Gin Fusion: Gin amplifies the potency while retaining the Spritz's lightness.
Grapefruit Twist: A zesty, tangy version for citrus lovers.
Intense Aperol-Prosecco: Skip the soda for a more robust flavor.
Perfect Partners for Aperol Spritz
Pair your Aperol Spritz with:
Starters: Think bruschetta, crostini, or cured meats.
Seafood: Grilled shrimp or calamari offer a harmonious blend.
Pizza: A Margherita or Neapolitan slice and Spritz are match-made.
Greens: Arugula or radicchio salads find their perfect mate in Aperol's citrusy notes.
Selecting the Right Prosecco
Elevate your Spritz with Bella Principessa Prosecco, a top-tier Prosecco crafted from Veneto's Glera grapes. Its crisp palate complements Aperol's flavor profile, making your drink an instant hit.
Embracing the Aperol Spritz Lifestyle
Though global bars and restaurants serve this delight, nothing beats crafting it at home. Aperol Spritz suits every climate and mood, whether on a balmy evening or a frosty night.
Not just a treat for the palate, Aperol also boosts immunity and aids digestion, thanks to bitter orange. Its light alcoholic content and natural ingredients also score health points.
Tips to Elevate Your Aperol Spritz Game
Chill your ingredients.
Use fresh garnishes like oranges or basil.
Choose top-tier Prosecco, preferably Bella Principessa.
Experiment with variations to find your signature Spritz.
Aperol Spritz: Setting the Bar High
Distinct for its breezy character and unique taste, Aperol Spritz shines among cocktails. Simple yet sophisticated, it's every home bartender's dream.
Eco-conscious Aperol Spritz
With natural ingredients and typically served in reusable glassware, the Spritz treads lightly on our planet.
Aperol Spritz: The Italian Emblem
Beyond a drink, the Spritz symbolizes Italian camaraderie and legacy, uniting folks and encapsulating community essence.
Aperol Spritz Questions Answered
Gluten-free? Absolutely! Aperol is gluten-free.
No soda water? Increase the Prosecco.
Calorie count? Approximately 120-140 per serving.
Champagne over Prosecco? Not ideal, given the taste difference and price.
Prepare ahead? Best made fresh.
In Conclusion
Aperol Spritz isn't just a drink; it's an experience, a taste of Italy in every sip. Embrace the culture, sophistication, and health perks with each glass.
Ready to elevate your mixology game? Dive into our curated list of 20 exquisite Prosecco cocktail recipes. Level up with our premium Bella Principessa Prosecco; soon, you'll be the toast of any gathering! Cheers!