Table of Contents
Check out our guide on how to make a Rossini cocktail—a delightful twist on the iconic Bellini, where strawberries take center stage alongside sparkling wine. If a tantalizing blend of tang and sweetness captivates your palate, then the Rossini awaits you. We're here to guide you in creating this elegant concoction with Bella Principessa Prosecco in five steps.
History of Rossini
The cocktail's namesake is the renowned Italian composer Gioachino Rossini. Its roots trace back to the 1960s when a bartender at Harry's Bar in Venice introduced this strawberry-infused variant of the classic Bellini, which traditionally uses peach puree and sparkling wine.
Essentials for How To Make a Rossini Cocktail
Ingredients:
Fresh strawberries (ripe and sweet) – 6-8
Bella Principessa Prosecco or other quality sparkling wine – 750 ml
White sugar – 2 tbsp
Lemon juice – 1 tbsp
Ice cubes
Tools:
Blender or food processor
Champagne flutes or cocktail glasses
Measuring spoons
The Rossini Creation Process
Thoroughly wash strawberries and de-stem.
Puree the strawberries using a blender.
Push the puree through a fine-mesh sieve into a mixing bowl.
Mix in lemon juice and sugar, stirring until sugar fully dissolves.
Pour this mixture into a glass, filling it up to one-third.
Top with Bella Principessa Prosecco or champagne.
Introduce some ice cubes.
Garnish with either a strawberry slice or mint sprig.
Sip, relish, repeat!
Crafting the Quintessential Rossini
Source fresh, ripe strawberries for optimal flavor.
Ensure your Prosecco or champagne is well chilled.
To achieve a smooth puree, utilize a fine-mesh strainer.
Adjust sugar as per your preference.
Serve promptly to savor the fizz.
The Prosecco Pick: Why Bella Principessa?
Bella Principessa Prosecco, a sparkling gem from Italy's Veneto region, is our recommended choice. Made from the exclusive Glera grapes, this Prosecco boasts a gentle aroma of green apple and citrus. It's crisp and dry and produces a harmoniously balanced Rossini when paired with strawberry puree. Quality doesn't have to be pricey; Bella Principessa ensures a luxe taste without denting your pocket.
Rossini Renditions
Opt for raspberries or blackberries for a berry variation.
A splash of peach schnapps can transform it into a peachy delight.
For a non-alcoholic take, replace Prosecco with sparkling water.
Rossini's Culinary Companions
The Rossini pairs splendidly with Italian delicacies. Here are our top picks:
Tomato and basil bruschetta
Caprese salad
Classic Margherita pizza
Tomato sauce pasta
Grilled seafood
Curious Queries
Frozen vs. Fresh strawberries? Fresh is our top choice but frozen can work.
Sparkling wine alternatives? While Prosecco or champagne is preferred, any sparkling wine can be used.
Can I prep Rossini in advance? It is best enjoyed fresh due to the fizz factor.
Should I sweeten it with honey? Yes, but anticipate a nuanced taste.
Rossini vs. Bellini? Rossini uses strawberry puree, and Bellini prefers peach.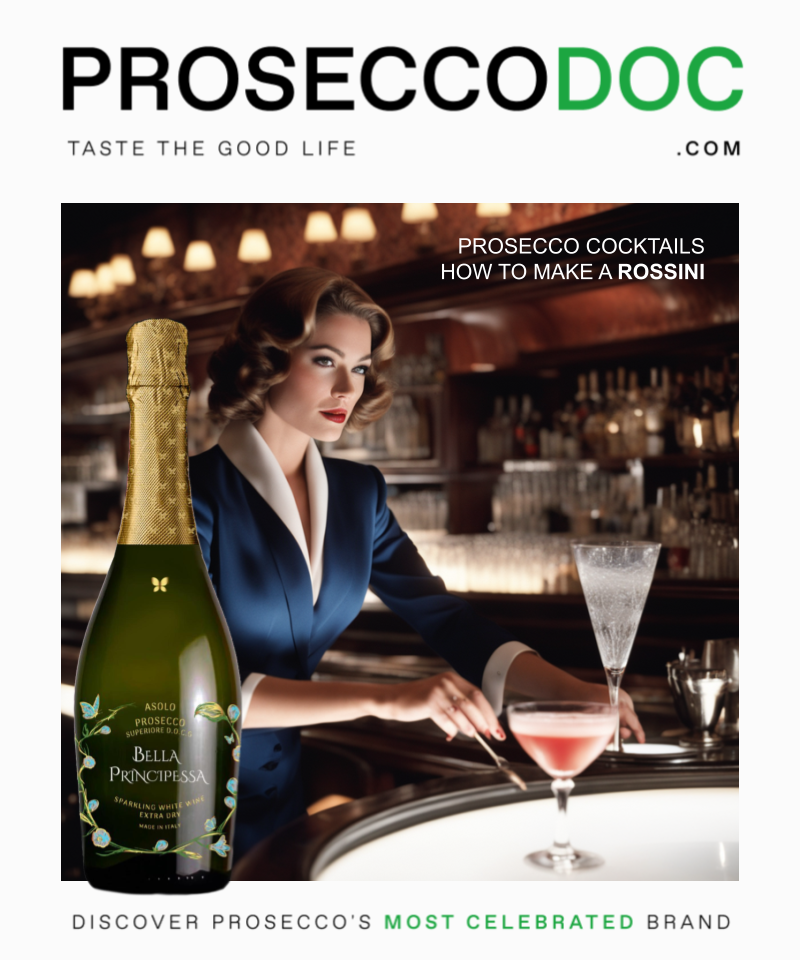 Conclusion: Perfecting the Rossini
Embrace the art of mixology with the Rossini—an Italian classic that never fails to impress. Our guide ensures you craft the ideal drink to elevate any gathering. Hungry for more Prosecco-infused creations? Try our 20 diverse recipes, and remember—Bella Principessa Prosecco is the golden touch for any cocktail. Cheers!
—
Serve and enjoy!