Table of Contents
This delightful concoction seamlessly blends the traditional tang of gin and lemon with the effervescence of Prosecco Doc or Docg. Our guide below will teach you how to make a French 75 with Prosecco that will captivate your guests.
What is a French 75 Cocktail with Prosecco?
The French 75 is a revered gin cocktail that dates back to World War I. Named after a formidable French artillery, it's known for its potent punch. While champagne is the traditional choice, switching it out for Prosecco adds subtle sweetness and sparkle.
Ingredients for French 75 Cocktail with Prosecco
Gin: 1 1/2 oz.
Lemon Juice: 1 oz.
Simple Syrup: 1/2 oz.
Prosecco Bella Principessa: 2 oz.
Garnish: Lemon twist or cherry
Instructions to Make a French 75 Cocktail with Prosecco
Ice up a cocktail shaker.
Pour in gin, lemon juice, and simple syrup.
Give it a good shake.
Elegantly strain into a champagne flute.
Crown with Bella Principesa Prosecco.
Beautify with a lemon twist or cherry.
Crafting the Quintessential French 75 with Prosecco
Tips for Making the Perfect French 75 Cocktail with Prosecco:
Prioritize high-quality gin for an unmatched flavor.
Ensure your Bella Principessa Prosecco is refreshingly cold.
Garnish choices like lemon or cherry add vibrancy and a taste boost.
Achieve that frothy texture with a robust cocktail shaker shake.
Employ double-straining to ensure a sleek, pulp-free drink.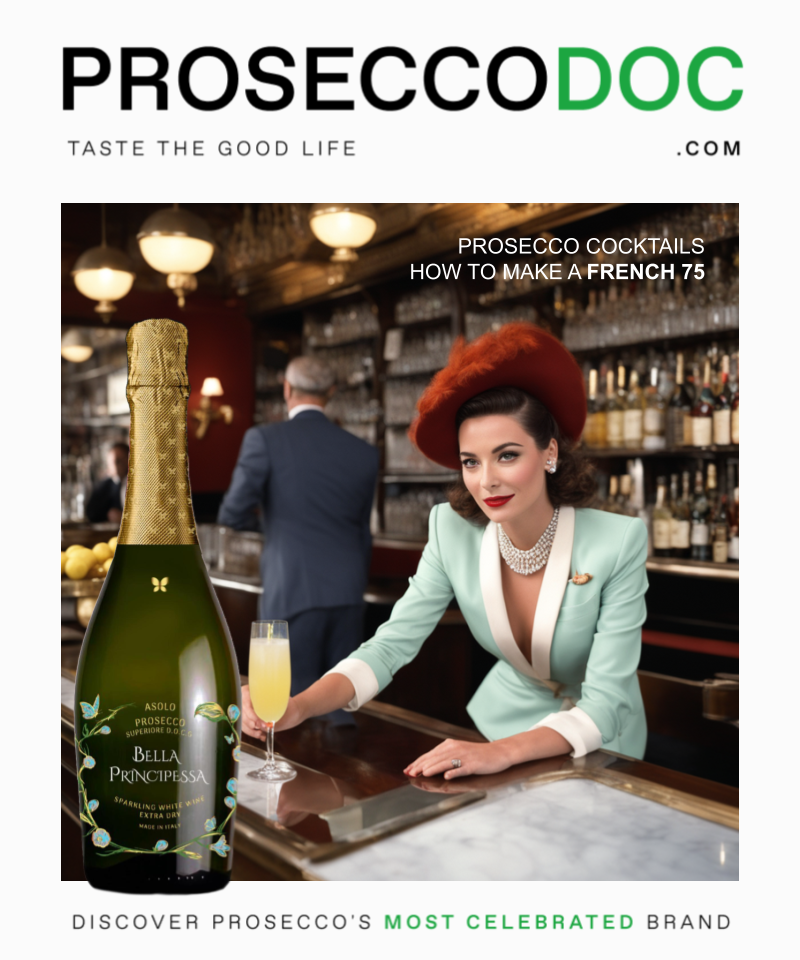 FAQs for how to make a French 75
Q: Can I craft a French 75 minus the gin?
A: No, gin's signature notes enhance the cocktail's flavors and zest.
Q: Can I opt for champagne over Prosecco in a French 75?
A: Champagne often costs more and offers a distinct taste.
Q: Is sparkling wine a suitable Prosecco substitute in a French 75?
A: Yes, but note that flavor variations between the two might alter the cocktail's taste.
Q: Can I prep a big batch of French 75 with Prosecco for a bash?
A: Certainly! Adjust the quantities proportionally.
If you're feeling adventurous, play with unique garnishes or add liqueurs like St-Germain or Cointreau. Experiment with gins like London Dry or Old Tom to diversify the flavor.
For a flawless pairing, accompany your drink with light bites like bruschetta or cheese trays.
Mastering the French 75 cocktail with Prosecco is a delightful endeavor. With these easy steps and a choice of ingredients, you're set to whip up an effervescent drink perfect for any soirée. Cheers!