Table of Contents
Master the art of how to make a Bellini cocktail with our simple guide, ensuring you can whip up this Italian classic any time you wish. Enliven your summer gatherings with the luxurious mix of fresh peach sweetness and Prosecco's sparkle.
Delving into the Bellini's Rich Heritage
Rooted in the 1940s, the Bellini was the brainchild of Giuseppe Cipriani, the innovator behind Harry's Bar in Venice, Italy. Celebrated for its harmonious blend of sweet and bubbly, this cocktail swiftly became a favorite amongst Venice's sophisticated circles.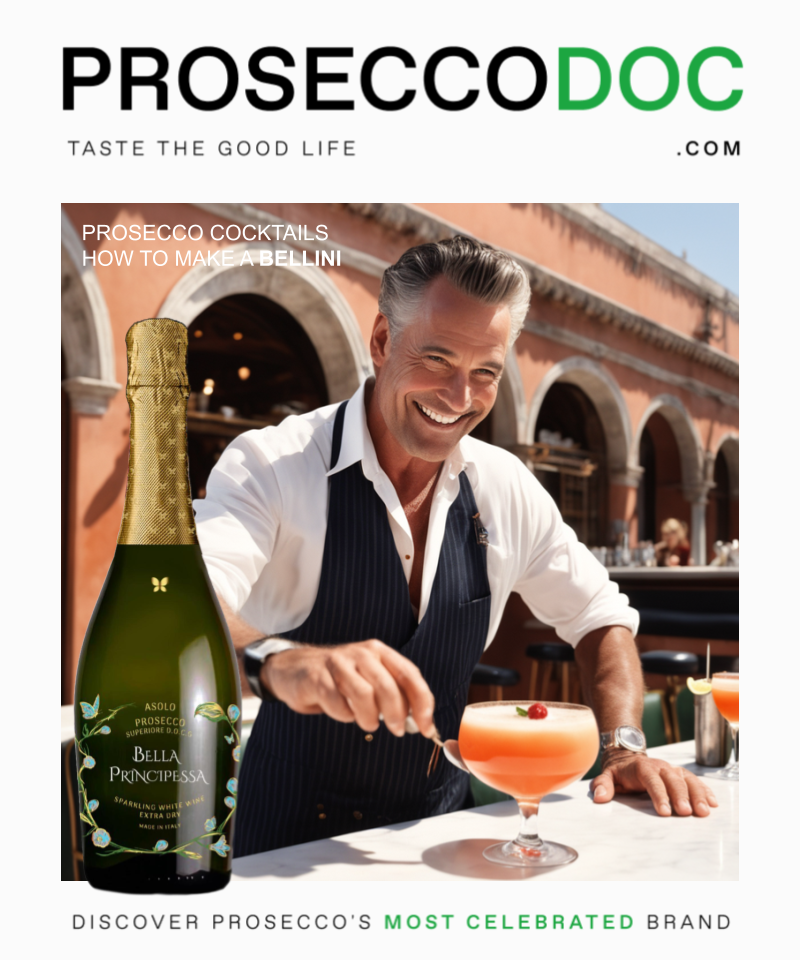 Crafting Authentic Bellini Cocktails
The true essence of a Bellini lies in the combination of rich peach puree and effervescent Prosecco. Its acclaimed taste is further bolstered by its storied lineage, transitioning from a quaint Venetian bar to a global cocktail sensation.
Bellini Ingredients: What You Need
Gather these essentials:
A bottle of Bella Principessa Prosecco or another sparkling white wine
Peach purée (or fresh peaches for a genuine touch)
A blender or food processor (when using fresh or canned fruit)
Optional: Lemon Juice and Ice
Step-by-Step Bellini Creation
Puree fresh peaches in a blender until silky. Skip if using pre-made puree.
Fill a champagne flute half-full with Prosecco.
Gently introduce the peach purée, preserving the bubbles.
Stir gently, merging Prosecco with the puree.
Optionally, drop in a few ice cubes for a cooler sip.
Immerse in the sweet harmony of your Bellini. Cheers!
How To Make A Bellini Cocktail At Home?
Our premium Bella Principessa Prosecco is your best bet for an unparalleled Bellini. Hailing from the lush Veneto region of Italy, its subtle taste elevates the Bellini's peachy goodness. Your palate will truly appreciate this indulgent pairing. Dive into our Prosecco's rich essence by clicking here.
Bellini Questions Answered:
Peeling Fresh Peaches: Begin with boiling water. Mark a small X at each peach's base. Plunge peaches into the boiling water briefly, then transfer to icy water. The skin should slide off seamlessly.
Frozen Peach Bellini: Thaw frozen peaches, blending until smooth. Pair with Prosecco in a 2:1 ratio. Serve immediately. For pristine frozen peaches, opt for ripe ones, cleanse, slice, freeze individually, then store in sealed bags.
Creating Peach Puree: Blend peeled, diced, ripe peaches to attain a smooth consistency. For a seamless texture, strain through a sieve. Use immediately or refrigerate.
Choosing Peach Colors: Both white and yellow peaches are apt. White peaches offer a milder taste, while yellow ones are slightly tart. The shade of peach determines the drink's hue but doesn't influence taste.
Incorporating Lemon Juice: Some use lemon juice to offset sweetness. It's non-traditional but can refresh the taste. For a version with lemon, begin with a dash and adjust. Remember, lemon could stray from the authentic flavor.
Bellini with Peach Juice: It's feasible but won't mimic the fresh peach texture. Blend juice and Prosecco in a 2:1 ratio.
Classic Bellini Ingredients: Two-fold – peach puree and Prosecco.
Bellini vs. Mimosa: Bellinis boast peach puree and Prosecco. Mimosas combine orange juice with Prosecco or Champagne.
Origin of Bellini: Distinctly Italian, crafted by Giuseppe Cipriani in the 1940s.
Why "Bellini"? Named after the Renaissance painter Giovanni Bellini, it reflects the drink's peach-pink hue reminiscent of Bellini's art.
"Belino": Likely a Bellini typo. The authentic Bellini melds peach puree and Prosecco.
Alternative Sparkling Wines: While Prosecco is preferred, other sparkling wines can be used, adjusting the final taste.
Discover 20 Prosecco Cocktails
Are you looking to experiment? Explore 20 enticing Prosecco-based concoctions. For an elite touch, infuse Bella Principessa Prosecco. Embark on your flavor journey here!