What are the dates for Vinitaly 2023?
Vinitaly 2023 welcomes Prosecco stars and wine and spirits lovers from 50+ countries at the iconic trade show's 55th anniversary in Verona, Italy, from April 2-5.
In past editions, Vinitaly 2022 was held from April 10 to April 13, showcasing an extensive selection of beverages and events from renowned producers worldwide.
Vinitaly 2024 Dates
Save the date! Vinitaly 2024 dates are still TBD, but expect the date to be scheduled from April 10th to April 13th.
The Grandest Stage for Wine and Spirits
Since 1875, Vinitaly has been the largest supplier of worldwide wines, making it the highest-ranking drinks market that caters to international wine industry operators.
But Vinitaly is more than just a wine and spirits exhibition. It celebrates Italian wine, beer, food, culture, history, and heritage.
For Prosecco, Vinitaly is an opportunity to shine to showcase the quality and authenticity of this beloved sparkling wine to the planet. It's a chance to connect with other industry experts, learn from the best, and prepare for the future.
A Journey to the Heart of Italian Wine Culture
Vinitaly 2023 is an exhibition and an invitation to discover and explore the heart of Italian culture. Visitors are invited to Verona's historic center, one of the leading global wine capitals.
Prosecco – A Symbol of Italian Culture and Heritage
No discussion of Vinitaly would be complete without mentioning Prosecco, the iconic bubbly synonymous with Italian wine, culture, and heritage.
Prosecco: The Star of the Show
At Vinitaly, Prosecco is one of the show's stars, drawing professional visitors from around the planet who come to taste this famous sparkling wine.
Prosecco is made from the Glera grapes variety grown in the UNESCO World Heritage Site of Conegliano Valdobbiadene.
An Unforgettable Spirits Exhibition for Buyers and Exhibitors
Vinitaly 2023 events will offer a unique experience over four days of conferences. Visitors can expect to discover around 4,500 exhibitors from nearly 40 countries presenting a diverse range of innovative wines, blends, technical tastings, master classes, seminars, and marketing strategies. With 400 major events, the exhibition promises to showcase grand tastings of the finest international wines and spirits.
The Vinitaly Exhibitors List showcases winemakers and vineyard owners at the fair, guiding the latest trends and innovations.
Where is Vinitaly 2023?
Verona, a picturesque city in northern Italy known for its cultural heritage, hosts the Vinitaly trade show, around 150 kilometers (93 miles) east of Milan and 120 kilometers (75 miles) west of Venice.
The fair location address for Vinitaly is Verona Fiera, Viale del Lavoro 8.
The Verona Fiera is a state-of-the-art exhibition center that provides modern facilities and ample space for exhibitors and visitors.
Since its inception in 1966, Vinitaly has been held at the Verona Fiera, attracting wine lovers and industry professionals worldwide to experience the best Italian wine.
How To Get To There?
Are you planning to attend Vinitaly, the world's largest wine exhibition, held annually at the Verona Fiera in Italy? Here's how to get there:
By Air:
The closest airport to Vinitaly is Verona Villafranca Airport, about 15 kilometers (9 miles) from the tradeshow. You can take a taxi or shuttle bus from the airport to the exhibition center.
However, if you are flying into Milan's Airports, you can reach Verona by train or car in approximately 1.5 to 2 hours, depending on the mode of transportation and traffic conditions.
You can also take a train or car from Venice Marco Polo Airport to reach Verona, which takes approximately 1.5 to 2 hours.
The nearest airport to Verona Fiera is Verona Villafranca Airport, approximately 12 kilometers away.
By Train:
Verona has excellent train connections, and the Verona Porta Nuova railway station is just a few kilometers from the trade show. You can take a taxi, bus, or metro from the station to the exhibition center.
By Public Transport:
Verona has an excellent public transport system, including buses and a metro network. You can take a bus or metro to the exhibition center from various locations around the city.
By Car:
If you're driving to Vinitaly, the Verona Fiera is near the A4 Milan-Venice motorway, Verona Sud exit.
Where To Park At Vinitaly?
The trade show provides ample parking space for visitors who drive to the trade fair.
The Verona Fiera at Viale del Lavoro 8, where Vinitaly takes place, has a spacious parking area for cars, motorcycles, and campers.
The parking lot is located adjacent to the exhibition center and is easily accessible from the Verona Sud exit of the A4 motorway.
Several other parking options are available near the exhibition center, including private garages and paid parking lots. Visitors should arrive early to secure parking, especially during peak hours.
Can Anyone Attend Vinitaly?
Vinitaly welcomes everyone, but it primarily caters to wine and spirits industry professionals, such as wine producers, distributors, sommeliers, restaurateurs, and journalists.
Nevertheless, the trade fair also allows enthusiasts and the general public to attend and explore the show. You can buy tickets for the event online or at the venue on the trade show day.
Vinitaly exhibitors can showcase and promote their beverage products to sector operators, including retail customers, distributors, sommeliers, and journalists worldwide.
Innovation and Expansion
The Vinitaly 2023 experience will focus on specific types of products and production zones, with a new digital platform, Vinitalia Plus, to enhance the experience for attendees.
Connecting Wine Professionals, Producers, Buyers, and Stakeholders
The trade fair will bring producers, patrons, and stakeholders worldwide for four days. Participants can connect with like-minded professionals and exchange industry trends, innovations, and business ideas.
Vinitaly Tickets
With a Vinitaly 2023 ticket, you can discover a vast selection of wines, attend seminars and masterclasses, and network with industry professionals.
Secure your Vinitaly 2023 tickets early to avoid missing out on this exciting event.
What Is The Vinitaly International Academy?
The Vinitaly International Academy is a prestigious educational institution dedicated to Italian wine. The academy's mission is to promote Italian wine culture and provide wine professionals with the tools to become international ambassadors for Italian wines. It provides a comprehensive curriculum that includes theoretical classes, tastings, and field trips to Italy's wine regions.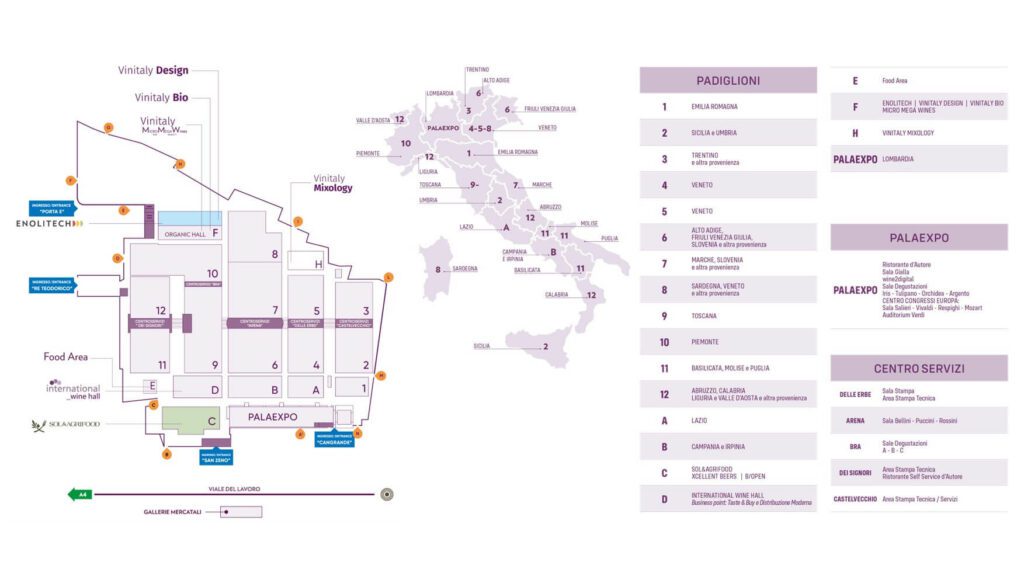 What are the top wine fairs in the world?
Europe's most prominent wine fair, held biennially in Bordeaux, France, is the Vinexpo. It attracts thousands of wine and spirits professionals worldwide and boasts numerous exhibitors.
Other notable European wine fairs include Vinitaly in Verona, Italy, ProWein in Düsseldorf, Germany, and the London Wine Fair in the United Kingdom.
Wine and spirits industry professionals may also want to add IBWSS to their must-attend events list to network, discover high-quality bulk wines and spirits, and stay informed on market trends and innovations.